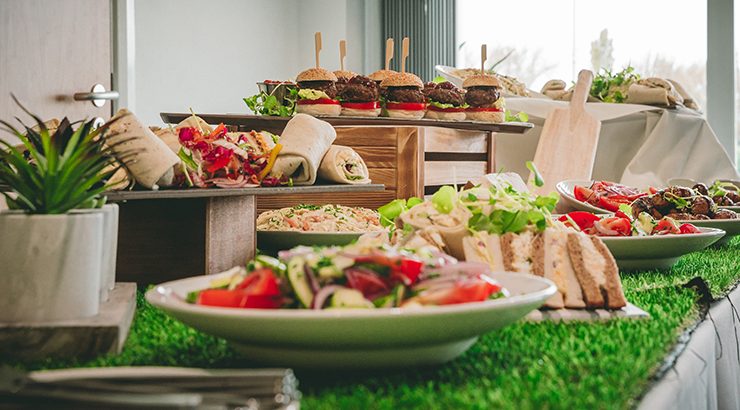 During a testing season, our team have been working around the clock to help keep international cricket going in Derby and beyond, and their efforts have not gone unnoticed by those within the game. 
The England women's team has been based at The Incora™ County Ground for the entirety of their summer schedule, while the West Indies have also called Derby home at times this year, as have the Pakistan and Australia men's sides.
With each team having their own individual needs and requirements, our team of top Chefs did everything they could to ensure the players, coaches and staff had the best possible preparation for their respective series'.
Australia are no strangers to The Incora County Ground, having played a three-day tour fixture against Derbyshire last season, while England have a lengthy history of playing women's matches in Derby.
When Pakistan arrived in the country for their Test series against England, they stayed and trained at the ground, and it was during this visit that our team first garnered praise this summer.
Mansoor, Team Manager for the Pakistan Cricket Board, said; "At The Incora County Ground, I could honestly close my eyes whilst tasting the food and think I was in a five star restaurant. I thank all the Chefs and their staff for accommodating our very many changes and late requests. They really did a great job."
However, while the meals they produced are already renowned for their quality and taste, it's our Chefs' baking skills that have taken centre-stage in recent weeks.
First, the England team threw a 'mock' wedding for Katherine Brunt and Nat Sciver, on what should have been their actual wedding day, and the Derbyshire staff still made sure it would be extra special with a cake that captain Heather Knight described in her BBC Sport blog as 'delicious'.
But that's not all. As England claimed the series against the West Indies by taking an unassailable 3-0 lead, there was something else whipping up a social media storm, as Jenny Cross, Physio for England's Netball team and sister of bowler Kate Cross, tweeted a picture of one of our special cakes with the caption: "You've excelled Team Derby, with the hidden cricket balls inside."
Similarly, Sky Sports' Production Manager, Hattie Jackson, had this to say: "I just wanted to let you know that the catering at Derby has been superb. Really good, wholesome meals that have obviously had a lot of care and thought put into them and the staff have been great too. The crew have all absolutely loved it, so thank you!"
You've excelled Team Derby 🙌🏻 with the hidden edible cricket balls inside 👀 @DerbyshireCCC @DCCCEvents @DeakinHelen 🏏 #ENGvWI #RaiseTheGame pic.twitter.com/ycrjkMeGv6

— Jenny Cross (@jecross9) September 26, 2020