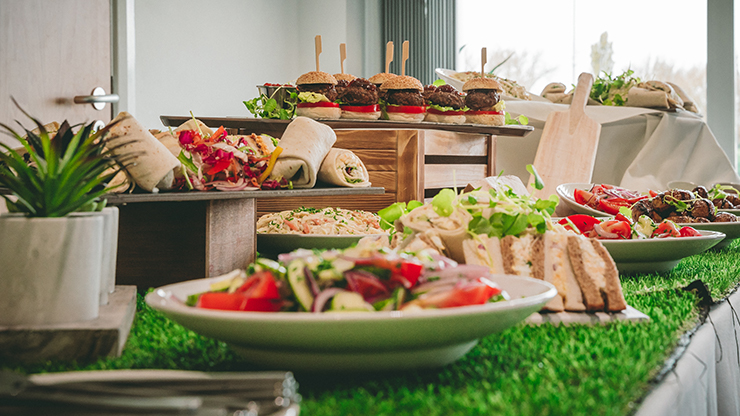 As part of our commitment to deliver safe events we have developed new menus that are prepared on-site with increased safety measures and using a range of quality fresh produce.
These menus can either be pre-packaged or served by fully trained staff members in PPE from a socially-distanced buffet.
All meeting rooms include:
LCD projector and screen
Flip chart, paper and pens
WiFi
Socially-distanced seating
Hand sanitising stations and mobile wipe stations for phones and laptops
Complimentary car parking
Package One
This package offers exceptional value for money with tea and coffee during the day and a protein box lunch pre-packaged and prepared on-site.
Arrival: Tea and coffee fresh fruit bowl
Mid-morning: Tea, coffee and biscuits
Lunch: Protein box and healthy snack
Mid-afternoon: Tea, coffee and cake of the day
Throughout the day: Individual bottles of water
Package Two
Arrival: Tea and coffee fresh fruit pots, yoghurts and fruit juice
Mid-morning: Tea, coffee and biscuits
Lunch: Cold healthy Protein box or Hot healthy bowl food
Mid-afternoon: Tea, coffee and cake of the day
Throughout the day: Individual bottles of water
Package Three
This option offers a range of catering options throughout the day and a choice of Nespresso coffees
Arrival: Tea and coffee warm breakfast pastries or breakfast rolls  fresh fruit pots ,yoghurts and fruit juice
Mid-morning: Tea, coffee and biscuits
Lunch: Hot fork buffet lunch with salads and dessert
Mid-afternoon: Tea, coffee and cake of the day
Throughout the day: Individual bottles of water