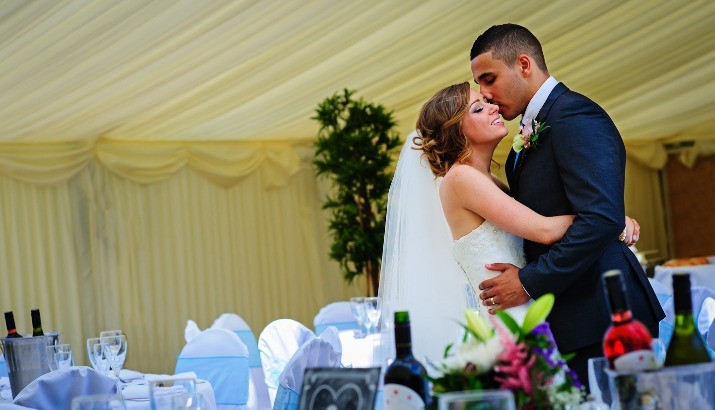 Have you just got engaged and are thinking of having your dream day early in 2017? Here are six reasons why winter weddings can be the perfect scenario for you.
Darkness = Party
It might sound obvious but a wedding is a celebration, and whether it's eating, drinking or dancing, these activities are often things we tend to do more naturally as night falls. You don't have to wait until late in the day for your first dance with a winter wedding.
Lighting Effects
Given the point above you can really go to town with all sorts of lighting, from oodles of natural and scented candles to uplighting, gobo lights, lanterns, fairy lights and more. You'll certainly get your money's worth if you're holding a winter wedding.
Don't Sweat the Weather
You won't be planning on using outside space for your wedding so you won't need to agonise over changing weather (unless it's really dreadful) and you won't be disappointed, nor will you have to worry about a Plan A or Plan B.
More for Your Money
Generally speaking you'll get much better value for money if you marry during the winter months, particularly if you avoid December. Some things might proportionally cost you a bit more, such as flowers, but most things will be a little more cost effective and you can benefit from last minute booking discounts that just don't exist on summer dates.
Your Friends Won't Be Wedding'd Out
There is a certain stage in life when there's a wedding every weekend, and although everyone loves a good wedding, once you're on the seventh out of nine weeks even the most loyal nuptial enthusiast could be forgiven for losing a tiny bit of interest. Go for winter and your party-goers are likely to be much more excited.
Shades of Winter
Winter lends itself to a bold and rich colour palette, which I know a lot of modern couples feel is more fitting to them and their wedding style than classic white and pastel, so why not go for it and set new winter wedding trends?
From a fully draped marquee for a lavish affair to an intimate affair in our newly reformed modern Pavilion Suite we are a perfect wedding venue where your imagination is the only limitation.
Located near Derby Train Station, The 3aaa County Ground is one of the leading events venues in Derbyshire and frequently more people are choosing to have their wedding in Derby.
Discover our wedding packages starting from as little as £3,595, our wedding menus and details prior to meeting together. Click HERE to view our Weddings Packages.