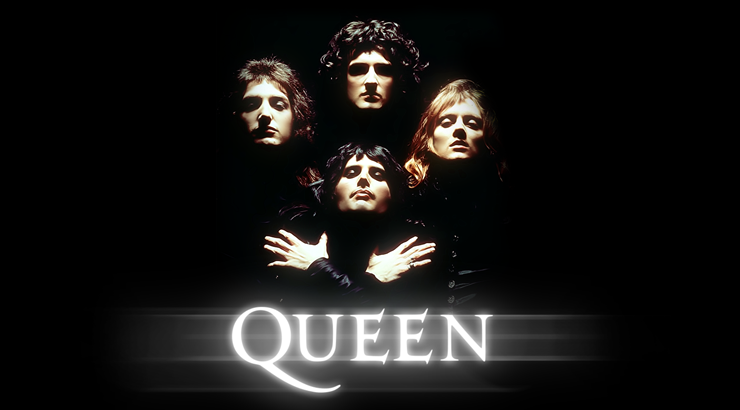 Stars of London's West End will perform An Evening of Queen at The Pattonair County Ground on Saturday 24 August. We take a look back at rock and roll royalty – one of the nation's most iconic bands.
Queen are a British rock band formed in London in 1970. Their classic line-up was Freddie Mercury (lead vocals and piano), Brian May (lead guitar and vocals), Roger Taylor (drums and vocals), and John Deacon (bass guitar).
Their earliest works were influenced by progressive rock, hard rock and heavy metal, but the band gradually ventured into more conventional and radio-friendly works by incorporating further styles, such as arena rock and pop rock.
Brian May decided to make a band and teamed up with Tim Staffell and Roger Taylor. They called themselves "Smile" with Roger Taylor on drums and vocals, Tim Staffell on vocals and bass and Brian May on guitar and vocals.
Tim Staffell became friends with Farrokh Bulsara (to be later known as Freddie Mercury) and Farrokh then became a fan of their band 'smile' and encouraged them a lot. Later on, Tim left "Smile" to join "Humpy Bong" and Farrokh Bulsara then joined the band on vocals and piano. Once Farrokh joined the band he came up with the name "Queen". They then started auditions for a new bassist. None of the auditions managed to suit the place of the new bassist, but finally, in 1971, they settled on John Deacon.
Queen's first album was released in 1973 and it was called "Queen" with songs such as "Seven Seas Of Rhye"and "Liar". Farrokh Bulsara changed his name to Freddie Mercury after the lyrics "Mother Mercury, look what they've done to me" in "My Fairy King".
1975 saw their new release, A Night At The Opera which brought them international success. The first single from the record, "Bohemian Rhapsody" became Queen's signature song which spent nine weeks at number one in England, breaking the record for the longest run at number one.
In the summer of 1976, they performed a free concert at London's Hyde Park that broke attendance records, and they released the hit single "Somebody to Love" a few months later. Spectacular success followed in 1977 with "We are the champions" and "We Will Rock You" which became the global anthems at sporting events across Britain and the United States.
Queen released a compilation album in 1981 called Greatest Hits which is the best-selling album in the United Kingdom and is certified eight times platinum in the United States. Their stellar performance at the charity concert Live Aid in 1985 has been ranked among the greatest in rock history by various publications.
Mercury gave his last performance at Knebworth, England in August 1986 with Queen. In 1991, Mercury unfortunately died of AIDS. The band issued their final album in 1995.
Queen's legacy will continue to live on as one of the greatest bands of all time!
Don't miss An Evening of Queen at The Pattonair County Ground.
Tickets for the must-see event are selling fast, so book today to guarantee your seat and avoid disappointment.
Tickets
Reserved Seating – £28
Standing – £24
Buy tickets online at derbyshireccc.com.
Should you have accessibility requirements please contact us on 01332 388 101.
Hospitality
Make the most of your evening of Queen with VIP Hospitality. This includes reserved seating, car parking, arrival drink, two-course meal, cheese and biscuits and post-concert DJ.
VIP hospitality packages include:
Event ticket (including VIP entry gate)
Car parking pass
Reserved seating section for VIP hospitality guests in the Falcons Stand
Arrival drink
2 course pre-concert supper
Cheese and biscuits served post-concert
Post-concert DJ in the Pattonair Pavilion
Hospitality is priced at just £75 per person.
For more information or to book VIP Hospitality, please call 01332 388105 or email events@derbyshireccc.com
---
For more information about an Evening of Queen at The Pattonair County Ground, please call 01332 388 101 or email info@derbyshireccc.com.