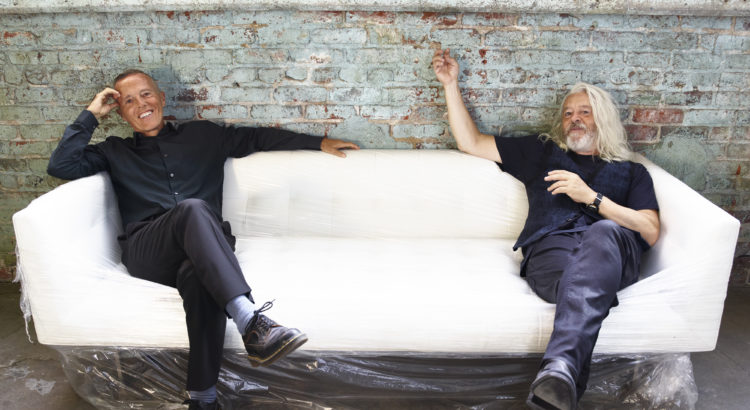 We look forward to welcoming you to Tears for Fears at The Incora County Ground, Derby on Tuesday, 12 July!
We've compiled some useful information to make your time at the event even more enjoyable so please take a couple of minutes to read through the below.
Tickets
All tickets for this event are e-tickets, which is a PDF file you can either print off or show on your phone. Any previously delivered hard tickets are no longer valid. Your point of purchase will either email you these tickets as a PDF attachment or they will be accessible through your online ticketing account (where applicable).
If you will be attending with your tickets on your phone, make sure you download the PDF file, as screenshots will not be accepted and mobile signal may be weak. If you have a cracked phone screen, please make arrangements to print your tickets, as the barcode will not scan from a cracked screen.
For ticket collections, the box office will be open from 9am on the event day; ID, your confirmation number and the credit card used are required. There is no re-entry.
Contactless Payment
This show will be fully contactless. All merchandise, food and drink, and other vendors will only accept payment through card or a mobile device. Please ensure you are prepared with one of these methods, as no cash will be accepted on site.
Important Times
Car Park Opens: 15:00
Box Office Opens: 16:00
Doors: 17:00
Entertainment Begins: 19:30
Last Entry: 22:00
Accessibility
If you've booked an accessible platform ticket, you will be receiving direct communication shortly.
Prohibited Items
In order to facilitate the security, safety and comfort of all patrons, AEG and the Site reserves the right in its reasonable discretion to conduct security searches of persons, clothing, bags and all other items on entry and exit, to confiscate items which may cause danger or disruption to the Event with no refunds.
IMPORTANT: This is a standing concert. However, small, foldable camping chairs and picnic rugs will be permitted in the rear arena and as long as they are not carried inside large bags . A small amount of unreserved fixed seating will also be available in the Seat Unique Falcons Stand. You are permitted to bring a blanket to sit on, although you may be asked to pack this up when the show starts.
Umbrellas, parasols and the like are not permitted at concert events for safety reasons. Air horns, selfie sticks, spray cans, Chinese lanterns, dangerous or hazardous weapons/items, fireworks, flags, gas canisters, glass (of any kind), klaxons and other similar items capable of making loud noise, laser pens, scooters, skateboards and bicycles are prohibited.
No animals aside from registered service animals will be permitted.
The unauthorised use of photographic, video and/or sound recording equipment is prohibited and such items may be confiscated and any tapes or films destroyed
Bag Policy
Ensure you travel light to the show. Each person is permitted only one bag no bigger than A3 size (35cm x 40cm x 19cm). Any bags larger than this size will not be allowed inside of the venue and there will be no bag check available for larger luggage.
Food and Drink
Please note that no outside food or drink is permitted inside the venue. We will have a great selection of food vendors and bars available to serve you throughout the night. If you have a medical reason to carry food or drink with you, please notify a member of staff and they will assist you.
Venue Entry
Venue Address: The Incora County Ground, Nottingham Rd, Derby DE21 6DA
Gold Circle Entry: There are dedicated lanes at Gate 5 + Gate 1 only
General Admission Entry: There are multiple public entrances, please check tickets for dedicated entry gate
Accessible Entry: Gate 2
Getting Here:
Please note car parking spaces in close proximity to the venue are being sold on a first come first served basis. To guarantee your parking space we strongly recommend you pre-book via the Cricket Club's website derbyshireccc.com or call 01332 388 101. All car park tickets are priced £10.00 and further details of where to park and how to book are included later in this guide.
From M1 South
Take exit 25 and follow signs for A52 Derby. After 6 miles arrive at Pentagon Is land, following signs for Chaddesden, the ground is 4th exit off this roundabout, signposted Derbyshire County Cricket Club.
From M1 North
Take exit 28 and follow signs for A38 Derby. After approx 13 miles, arrive at the Little Eaton roundabout, take the slip road A61, signposted Derby and with a brown sign County Cricket/Pride Park Stadium. Continue straight on, remaining on the A61 at the next 3 roundabouts until reaching the Pentagon Island. At Pentagon Island, take 1st exit off roundabout signposted Derbyshire County Cricket Club.
From Birmingham
Travel up A38 until the Little Eaton roundabout. Take 3rd exit, signed A61 Derby and also signposted with a brown cricket/football sign. Continue straight on, remaining on the A61 at the next 3 roundabouts until reaching the Pentagon Island. Take 1st exit off roundabout signposted Derbyshire County Cricket Club.
From M6
Take exit J15 (from south), J16 (from north) follow signs to A50 (Uttoxeter). Fol low A50 for approx 20 miles to A516 to Derby. Take A516 until it joins A38 then follow directions (from Birmingham) above.
BY TRAIN
Derby is on the East Midlands Trains main line with direct trains from Leicester to the South, and Sheffield and Chesterfield from the North. Derby is also served by local trains from Burton, Matlock, Nottingham and the East Midlands. The walk from the station takes about 20 minutes. Please plan ahead and allow plenty of time for your journey. Taxi services will be available
Please ensure you leave enough time to access the arena and to undergo security checks
Parking:
EVENT DAY PARKING Official car parking is available in close proximity to the ground on the Racecourse playing fields and off Stores Road running parallel to the A61 (Sir Frank Whittle Way) and Nottingham Road. All official event car parks will be open from 3:00pm on the event day and will close at approx. 11:00pm. See map for locations.
Car Park A / Run-through Car Park – Disabled car parking  is available for Blue Badge holders only adjacent to the ground via the main entrance off Nottingham Road (DE21 6DA) but tickets must be purchased in advance to guarantee access by calling 01332 388101 or emailing [email protected]
Car Park B / Racecourse Car Park – Approximately 2000 spaces. When travelling from the South and East the venue advises using entrance A off St Mark's Road adjacent to the Light House Centre (DE21 6AL). Access to St Marks Road is via the second left turn off on Nottingham Road following the main entrance to the ground. The venue is immediately adjacent to this section of the Racecourse car park.
When travelling from the North and West the venue advises using entrance A to the Racecourse car park with access off St Mark's Road. Join A61 at Little Eaton Island, continuing straight on at the next two roundabouts. At the 3rd roundabout turn left onto Hampshire Road continuing onto St Mark's Road. We highly recommend you Pre-book your car parking space and to do please visit the following link https://www.dccctickets.com/select_seats.aspx?perfid=1125 or calling 01332 388101.
IMPORTANT NOTE: There will be no overnight camping at the venue or associated parking lots
Pick Up and Drop Off:
All drop off and pick-ups will be taking place in Stores Road. Located to the west of the concert Arena. Access will be from Sir Frank Whittle Way. Please follow road signs and stewards directions while using this facility. A safe controlled area has been put into place for your convenience and a safe 5-minute walking route to the Arena.
Please be advised no dropping off or pick-ups will be allowed on the roadside outside of the arranged drop off/pick up area in Stores Road, this also applies to all pre booked Taxis and Hackney Cabs.
Age Restrictions
We advise that the event may not be suitable for young children, especially those under 2yrs of age. However, if you do arrive with a non-ticketed child under 2yrs old, please report to the box office where an attendant will provide a complementary ticket. All children 3yrs and older will need to have a purchased ticket. Buggies and necessary care bags will be permitted, but please be advised that additional security checks may take place.
COVID-19
For the safety of all guests, staff, and touring crew, customers are asked not to attend if you are feeling unwell or have tested positive for COVID-19. Please take extra precautions if you live with someone who is symptomatic or has tested positive for COVID-19.
For more information, please visit our FAQ's: https://www.aegpresents.co.uk/faqs/tears-for-fears-faqs-summer-2022/
For live updates on show day, please follow @DCCCEvents on Twitter, Instagram & Facebook