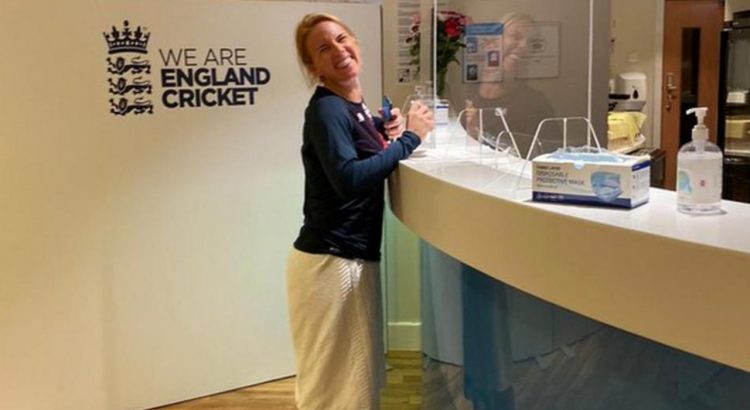 The Incora County Ground was chosen as a bio-secure venue for high-profile touring international cricket teams this summer and the latest visitors are England Women.
Heather Knight's England will face West Indies in a five-match Vitality IT20 series exclusively in Derby later this month and our experienced catering and events team are continuing to deliver a safe and versatile space for training and general living within the Derby 'bubble'.
(Above photo shows England's Lauren Winfield)
Writing in her BBC Sport column, the England captain wrote:
The last few months have certainly tested my adaptability. As has been the case for many people around the world, there's been a lot of uncertainty in our cricket world.
After being in limbo with India and South Africa both unable to come here, it's been great to finally get a bit of clarity with the confirmation that West Indies are coming over for a five-match Twenty20 international series next month. I won't let myself believe it fully until that first toss on 21 September though!
---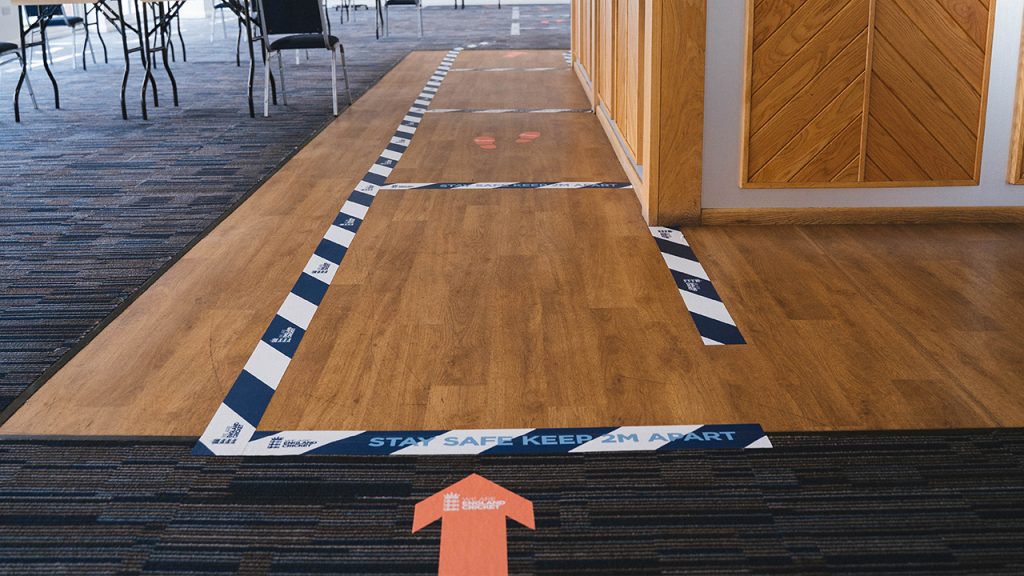 Stay connected to your employees or clients with one of our Hybrid Events packages.
Hybrid meetings are becoming more and more popular because of their flexibility, the key benefit is that you can invite participants to join you virtually or in person maximising attendance.
At the Incora County Ground, we have a virtual package that allows you to get your important message as well as vital interactions sent out to delegates worldwide.
---
It's been absolutely remarkable how quickly the West Indies trip has been organised – massive credit needs to go to the team at the ECB who have made it happen and of course the West Indies board and players for salvaging our summer.
The ECB has really backed up its commitment to the women's game with its actions over this period, and we as players are super grateful.
As well as all of the matches being on Sky Sports, the third match is live on the BBC. I've read that's the first time England Women will have been live on free-to-air TV since 1993 so it's a perfect time for everyone to perform.
It's mad to think our last completed international (thanks again, Sydney rain…) was against West Indies in the ICC Women's T20 World Cup on 1 March. It feels like a lifetime ago.
But I felt then that we were just picking up some nice momentum, so let's hope we pick up straight away from there, six months on.
All the West Indies games will be at Derby in a bio-secure 'bubble'. We had two weeks experiencing what "bubble life" is like when we met up at the beginning of August for some intra-squad games in what became known as the Heyhoe-Brittin Cup.
Our coach Lisa Keightley came up with the idea to honour two members of English cricketing royalty – the late Rachael Heyhoe Flint and Jan Brittin, who both passed away in 2017 – and to create a bit of healthy competition for the matches.
Each player received a cap for their team, although an unfortunate typo on the caps meant Nat Sciver's team were representing Jan Britton – who, according to a quick Twitter search, is a bloke from Gloucestershire!
Maybe a sense of injustice spurred Team Brittin on, because they ended up taking the series. There was some good cricket, and some handy performances, which was heartening after such a long time away.
The bubble set-up was actually pretty good, although a bit strange initially with all the protocols in place. We were looked after very well and it was so nice to catch up with all the girls and staff after a long break.
It wasn't hugely different to a normal tour, really, in terms of how we spent our time. There was a games room in which we all partook – on one occasion, Mady Villiers and I spent hours and hours chipping golf balls into an upturned umbrella – and there was a lot of up and down attempts at latte art.
On one evening – with all the Covid-19 rules in place – we sat outside to watch Sister Act 2, which was all very lovely except we couldn't really see the screen.
All we need now is for the weather to do us a favour across September. Surely we're due a bit of luck on that front?
Our Modern, Safe & Versatile Spaces
It has always been our priority to look after our guest and staff's wellbeing with the utmost care. In today's times we know that there are further precautionary measures that need to be taken both to protect and offer peace of mind. This is why we have implemented the following as a standard at all of our events in the future.
Communication
Our dedicated Events Team are here to put your needs first, providing a modern, safe and versatile space for your meeting or event in Derby.
Find out more about our unique venue, our varied packages and our safety procedures by getting in touch today.
Call us on 01332 388 105 or email

[email protected]

.