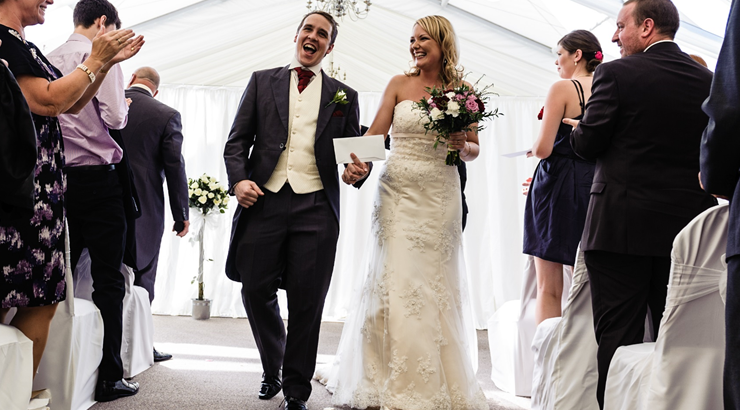 Adding the finer touches to your wedding day? Here are the top wedding trends from last year to help you plan the perfect event at The 3aaa County Ground.
Lighting
We saw more specialist lighting than ever at weddings in 2015, with fairy lights, paper lanterns, trees of light, outdoor courtyard festoon lighting, abundant collections of candles, gobo lights projecting a pattern, and more. Couples in 2015 were more than savvy about the massive difference some investment in good lighting can make.
Dance Floor Invasion
With choreographed confetti blasters, dance-offs, musical chairs, race the bouquet to the bride and the classic egg and spoon race, the after dinner segment wasn't just reserved for the classic wedding DJ.
Sugar-Crafted Flowers
Couples in 2015 really invested in some stunning sugar-work for their wedding cakes, from top cake designers. If you can think of a fresh flower you love, chances are one of the best cake designers out there can craft it in sugar.
Multi-Zones and Reveals
This wedding trend has been something we've spotted for a couple of years now, but it was stronger than ever at weddings in 2015. The 2015 couple didn't want to be limited to using one or two areas for their wedding, but 'revealed' different themes and zones throughout the day, be it revisiting a space later in the day with different lighting and layout, or 'revealing' an entirely new themed bar and party area.
Fun and Games
From quirky duck herding to table hockey, skittles, adult face painting and art wall creation, 2015's wedding guests have been entertained in all sorts of interactive and crazy ways that certainly left no time for rest!
From a fully draped marquee for a lavish affair to an intimate affair in our newly reformed modern Pavilion Suite we are a perfect wedding venue where your imagination is the only limitation.
Located near Derby Train Station, The 3aaa County Ground is one of the leading events venues in Derbyshire and frequently more people are choosing to have their wedding in Derby.
Discover our wedding packages starting from as little as £3,595, our wedding menus and details prior to meeting together. Click HERE to view our Weddings Packages.