The Show
Former stars from the smash hit musical Mamma Mia come together to perform a dazzling outdoor concert of ABBA's sensational music at The 3aaa County Ground in Derby on Saturday 18 August.
Performing hits from Dancing Queen to Waterloo backed by a fabulous West End band and led by Mamma Mia's touring musical director Richard Weeden, this one-night concert spectacular is an evening no ABBA fan should miss.
This outdoor concert event has now SOLD OUT. Car parking is still available to buy for those who have already purchased tickets for the event priced at £5 per car.
The leads from the show feature;
Niamh Perry – West End production of Mamma Mia, BBC's I'd do Anything with Lord Andrew Lloyd Webber.
Jon Boydon – Mamma Mia UK tour, Jersey Boys in the West End.
Jenna Lee James – Mamma Mia UK Tour, We Will Rock You
The cast will be backed by a six-piece band under the musical direction of Richard Weeden, who has been the Musical Director on UK Tours of Mamma Mia and Dirty Dancing.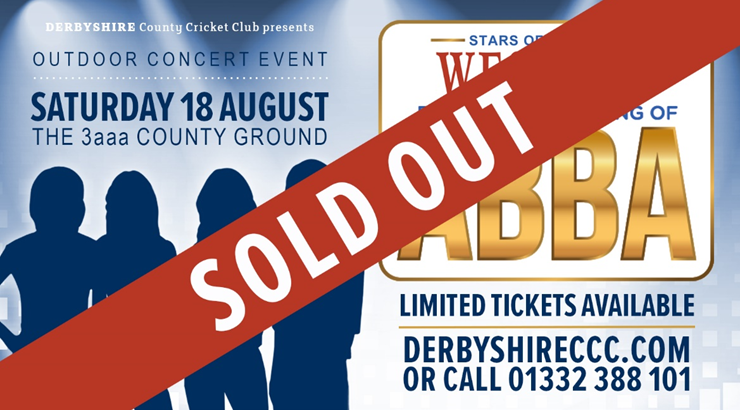 Full Event Information
Saturday 18 August
The 3aaa County Ground
Nottingham Road
Derby
DE21 6DA
Gates open 5.30pm
Show starts 7.30pm
Approx finish 9.30pm
Visitor Information
There will be a number of items we cannot allow in, including all food, drink, picnics, folding chairs, large bags and umbrellas. Any dangerous items, such as pen knives, as well as any professional cameras or recording equipment will also be forbidden.
Any forbidden items will be confiscated. For more information, please call 01332 388 101 ahead of the day.
Water up to 500ml will be allowed in.
You may also bring a small handbag, small camera and any other non-forbidden essential items. Picnic blankets are also allowed for people who wish to sit on the outfield during the performance, although space will be limited during the performance.
Catering units will be located around the venue on the night to purchase a wide range of food and drinks.
Please come dressed appropriately – this is an outdoor event. There is no cloakroom on site.
We ask all visitors to bring cash on the night. There are no cash machines located at the ground. The nearest cash point is located at the Texaco petrol station on Pentagon Roundabout.
There will be a designated area to the right of the stage at the front of the standing section for visitors with accessibility needs.
Tickets
Grand Stand Seating – SOLD OUT
Standing – SOLD OUT
All tickets for this outdoor concert event have now sold out.
Car parking is still available to buy for those who have already purchased tickets for the event. Car parking can be purchased online derbyshireccc.com, by calling 01332 388101 or in person at The 3aaa County Ground; Nottingham Road, Derby DE21 6DA.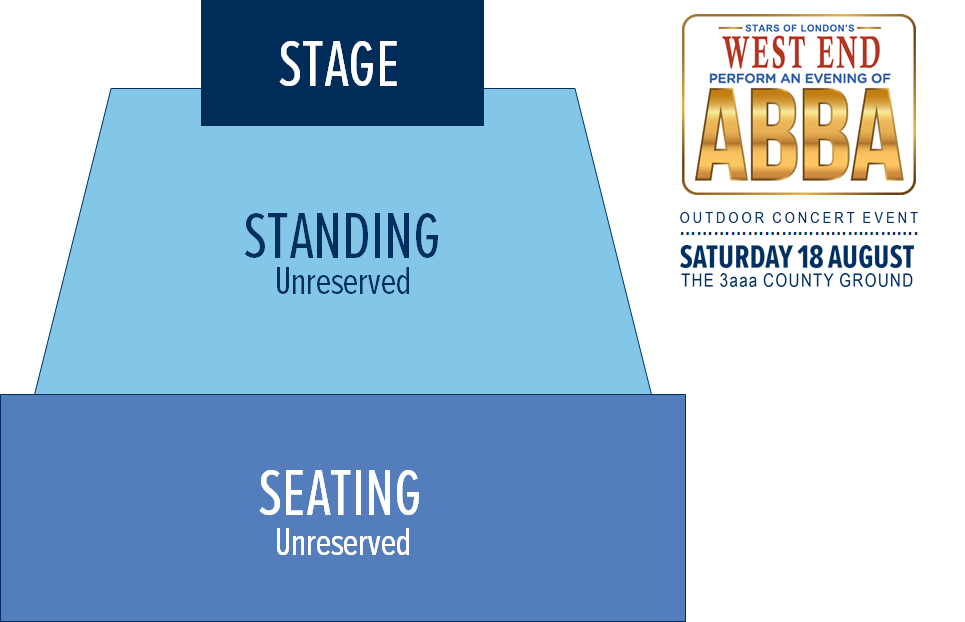 Car Parking
On-site car parking (subject to availability) can be pre booked in advance at £5 per car either online at derbyshireccc.com or by calling 01332 388 101.
All parking will be accessible via the main entrance off Pentagon Roundabout; postcode DE21 6DA. Parking will then be available either in the 3aaa Pavilion or Marquee car parks (subject to availability).
No cars are to be left overnight and all vehicles are parked at owner's risk.
If you are being dropped off on the night, our Drop Off Point will be in the Runthrough, opposite Nuffield Health, which is accessible via main entrance off Pentagon Roundabout.
Please note that only a limited number of on-site car parking spaces are available and the only way to guarantee your spot is by booking in advance. Price is £5 per car.
For disabled parking tickets, please call 01332 388101 in advance of day of the concert. Disabled parking is located by the 3aaa Pavilion accessible via the main entrance and parking is on a first-come first-serve basis.
Hospitality
Make the most of your evening of ABBA with VIP Hospitality. Includes reserved seating, car parking, arrival drink, three-course meal and post-concert DJ.
VIP hospitality packages include:
Event ticket (including VIP entry gate)
Car parking pass
Reserved seating section for VIP hospitality guests in the Falcons Stand
Arrival drink
2 course pre-concert supper
Cheese and biscuits served post-concert
Post-concert DJ in the 3aaa Pavilion
Hospitality for this event has SOLD OUT.
For more information or to book VIP Hospitality, please call 01332 388105 or email events@derbyshireccc.com
---
For more information about the Stars of Mamma Mia perform an Evening of ABBA at The 3aaa County Ground, please call 01332 388 101 or email info@derbyshireccc.com.