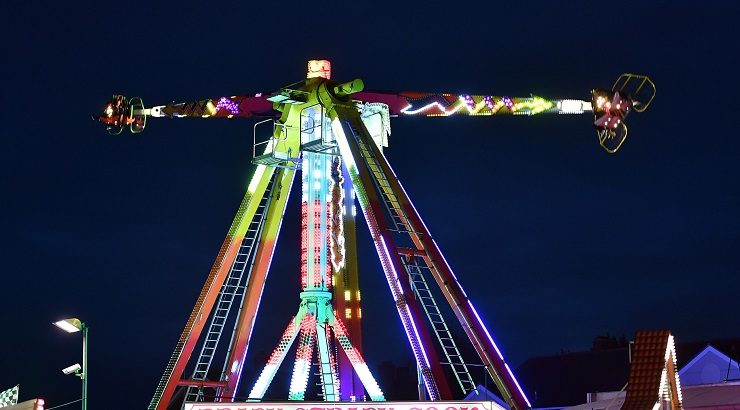 Please note; there is a £2 booking fee per order for all online or sales over the phone to cover admin and postage costs.
[generalticket]
What time do the gates open?
Gates open from 4pm, with plenty to see and do around The Pattonair County Ground prior to the start of the fireworks display. The ground will close at 9.30pm.
What time do the fireworks start?
The fireworks display starts from 7pm.
What time does the funfair open and close?
The funfair will be open from 4pm and will close at 9.30pm.
What happens if it rains?
The display can go ahead in rain, however strict regulations are in place for extreme weather and high winds. In instances of extreme weather, checks will be made on the night before a decision can be made.
Are dogs allowed in to the ground?
Dogs will not be allowed into the ground for this event.
Sparklers will not be allowed for this event due to health and safety regulations.
Will there be on-stage entertainment?
Smooth Radio's Gareth Evans will be entertaining the crowd with great music, as well as displays from profesional performers Darley Dance from 6pm until the fireworks begin.
What time does the ground close?
The Pattonair County Ground will close at 9.30pm.
Kids go free under what age?
Children under the age of three will be granted admission to the event free-of charge.
There are official Car Parking sites located around the vicinity of the ground. Visitors will be able to park their car within a short walk to the ground. Parking is £5 per car.
Car Parking is available at the following sites; 
Racecourse Car Park, entry off St Marks Road (DE21 6AL) – limited spaces
Pentagon House, entry off Stores Road (DE21 4XA)
Limited accessible parking is available on-site. To secure your accessible parking space, please call 01332 388 101 in advance of the night. All car parks will be stewarded.
While the Club will always try to accommodate all vehicles visiting the ground, admittance will be on a first come, first served basis. We ask that all visitors try and schedule their arrival at the ground, allowing plenty of time.
Parking can only be pre-booked online until Wednesday 30 October to allow for parking passes to be posted out. Parking passes can be purchased in person at The Pattonair County Ground until 2pm on Sunday 3 November. 
Are there cash machines on-site?
There are no cash machines on-site. The nearest cash points are located at the Texaco garage off Pentagon Island. Although the catering units do accept card payments, we advise all ticket-buyers to bring cash on the night, as the fun fair will be cash only.
Will reusable cups be in operation?
Reusable cups will be in operation on the night and can be purchased for a refundable deposit of £1. Full details of our reusable cup policy can be found HERE.