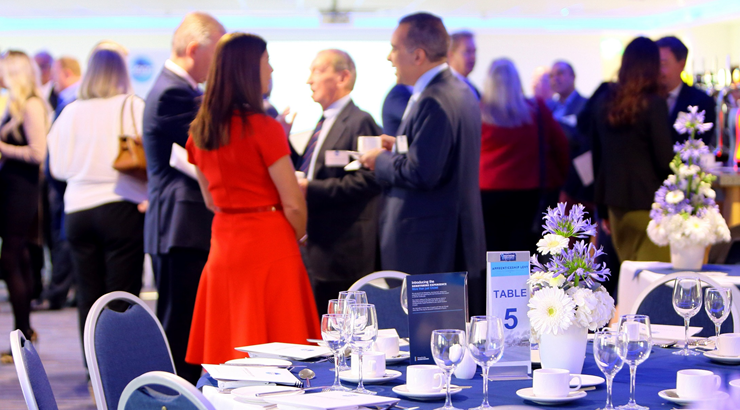 Conferences no longer need to be thought of as boring. They should be informative, engaging and interactive. To make sure you give the most to your delegates, here are our five ways to dramatically improve your conference.
Send out a 'What to Expect' Email
One way to help give your delegates some peace of mind is to send round a 'What to expect email' a couple of days before the event. When writing your email be sure to consider: dress codes, what types of food and drink are going to be available and whether there will be WiFi. Think about every small question your attendees have asked ahead of your events, then turn them into a helpful piece of communication. You'll save your attendees a lot of time trying to find the answers to these questions.
Seating Arrangments
The first step in choosing the right seating arrangement for your event is to finalise the number of people who'll be attending. Consideration of how you want the day to work is important here as seating arrangments will have an impact on the flow. Will you have a programme of presentations and lectures? Will attendees be taking part in group discussions and debates? And do you want everyone at the event to feel included and on an equal footing?
Generally speaking, theatre and classroom style layouts work best when attendees will be listening to presentations and lectures. While boardroom setups are perfect when you want to get everyone involved and encourage debate and participation.
Ensure your guests interact
Valuable connections are often made because of chance, so it can be beneficial to mix groups together through lunch or breaks during the event. This prevents people from just talking with colleagues they already know and allows them to forge a greater variety of connections. People will find this useful and they will be able to take more from the event as they not only learn from you but build new relationships.
Use smartphones and tablets as a resource
Smartphone and tablet technology now gives attendees a whole new way of communicating and learning from an event. There are loads of ways that event planners can involve them in their event. Anything from interactive activities to sending files and images, the opportunities are almost endless. Storify is a great example of an app that allows you to curate key documents or useful pieces of content in one easy-to-reach place.
Choosing the correct venue
When considering what venue to choose for your conference, you need to consider some things first. What will your budget be? What location will be best for people coming to your event? How many people are coming and do they have the correct features you need.
Here at The 3aaa County Ground, we offer transparent Day Delegate Packages from as little as £28 per person plus VAT.
With great road and rail links for any travelling delegate, we are located within the heart of England and 80% of the population who can reach us within 90 minutes. This makes us a central base offering accessibility from the M1, A52, A38 or A50. Derby's train station is also only a short distance away.
Whether you are looking for a private meeting for 10, to conferences for up to 350, we cater for your every need; for any local, regional or national business – we can be your Derby conference venue.
To make an enquiry or for more information about our Party nights, please call 01332 388 105, email events@derbyshireccc.com