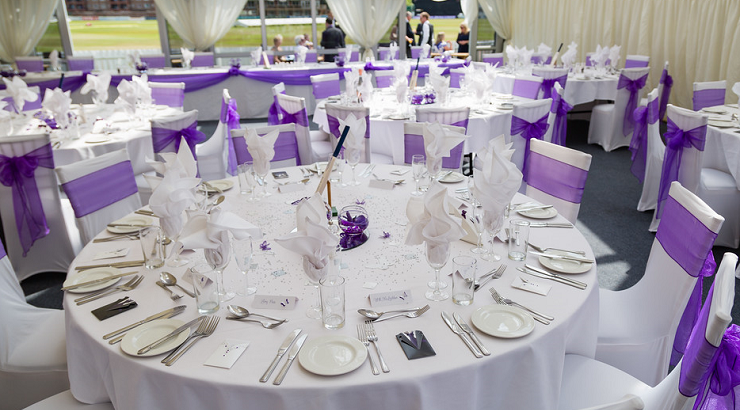 You've popped the question, you're now officially engaged, and it's time to start planning the wedding. So to help your out here is our top wedding decoration ideas.
Banners And Bunting
Wedding banners and bunting are a fantastic way to set the tone of a wedding adding that special extra touch to your venue. Banners and bunting are an effective way to transform a sparse venue into a beautifully themed wedding space, bringing the colour scheme to life whilst adding depth to the venue.
Visually, banners and bunting have a significant impact because they cover a large area. When executed properly, they not only balance out the other wedding decorations within a room, but they can also add a dash of sophistication to a pretty plain space.
Flowers
Your wedding flowers will be one of the most photographed details of your wedding (besides you, of course!), so it's important to pick wedding bouquets that truly fit your wedding style and theme. I can be hard to choose the wedding flowers that fit your style and match your colour scheme, especially if you don't know a dahlia from a daisy.
It's always best to decide how much you want to spend in advance. This means the florist can tailor a package to your budget. It's also a good idea to prioritise flowers into "must have" and "nice to have". This allows the florist to choose types and amounts wisely and avoids disappointment later when you see what they create.
Chair Covers
Colourful wedding chair covers and bows can transform the look of your wedding ceremony or reception room. As an inexpensive yet powerful accessory for your day, bows tied around covered wedding chairs can work beautifully with your chosen theme or colour scheme and can add that touch of elegance and class to your celebration whilst giving it the WOW factor.
The venue will play an important role in the wedding decorations you choose for a number of reasons. The size of the site will dictate the size of the decorations, as they need to be proportionate to the space available. The style of the venue should also align with the décor style. Clashing design styles and colours can take away from the beauty of the day. So make sure you get the right venue for you.
Here is what we can do to help
The 3aaa County Ground is a leading venue for Derbyshire Weddings and provides a quintessential backdrop for weddings all year round. Couples can hold their wedding in a fully draped marquee for a lavish affair or in our newly reformed modern Pavilion Suite to create a more intimate occasion. We are the perfect Derby Wedding venue where your imagination is the only limitation.
Whether it's a stunning fully-draped Marquee for a lavish affair or a modern Pavilion to create a more intimate occasion, we offer a quintessentially English backdrop for your perfect day.
Starting from £3,595, we offer two main packages to choose from. Take a look at our Wedding Brochure HERE and our Wedding Packages HERE.
Call the events team today for a friendly conversation with a coordinator on 01332 388105.