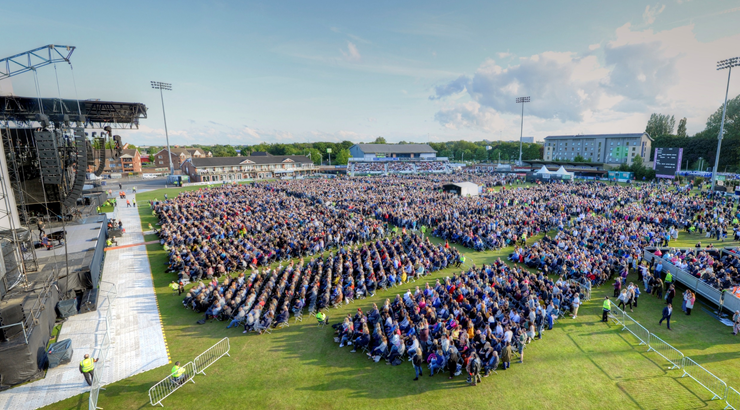 14,000 people packed The 3aaa County Ground to see British pop icon Elton John live in concert, as he played all his best hits to a capacity crowd.
Sir Elton, who was performing in Derby for the first time since 1979, and his band performed songs from his stellar career as well as numbers from his new album 'Wonderful Crazy Night'.

Chief Executive Simon Storey said: "It's been a tremendously successful evening. I think the most important thing is that people could come out and have a great night out watching Elton.
"We hope everyone enjoyed it, has gone home happy and will want to come back for more and share an event here whether it's a cricket match or another concert.
"It was a night that everyone will remember for a long time – a terrific turn out from the local fans. We're delighted everything has gone to plan.
"It's very rewarding to see people leaving The 3aaa County Ground with a smile on their face."
The 3aaa County Ground next plays host to Boyzone on Saturday 16 September, one of only a handful of dates the band will play in 2017 making it an unmissable event.
"We're delighted to be welcoming Boyzone – one of the most decorated boy bands of all time," he said.
"We are expecting another good night and we will work hard for that one. It will be the perfect way to end a special summer for the Club."
Tickets are on sale now for this fully standing concert are on sale now, with hospitality also available.
To book hospitality please call 01332 388 105 or email hospitality@derbyshireccc.com